TV Ipsum is dead
This Ipsum Generator is no longer available.
TV Ipsum
A Unique Ipsum Text Generator Using TV Theme Lyrics
Review
Today's ipsum generator is called TV Ipsum and it appears to slam lines from classic TV Show theme songs together. Some of the ones I recognized were Buck Rogers, Brady Bunch, Gilligan's Island, Different Strokes, Mr. Rogers Neighborhood, and Happy Days.
I like the old television graphic as the foundation for the user interface, but I was disappointed that the knobs and buttons did not control any parameters. Alas, the user only gets one option anyway and that is a paragraph count.
Here are my ideas for improvement:
Let the user decide which TV Shows to use in the generation (checkboxes)
Use the knobs on the TV graphic to control parameters
TV Show options by decade
More TV shows!
Although I watched a lot of these old TV shows as a child, this dummy text doesn't do much for me. You on the other hand, may find it perfectly cute and appropriate for your design.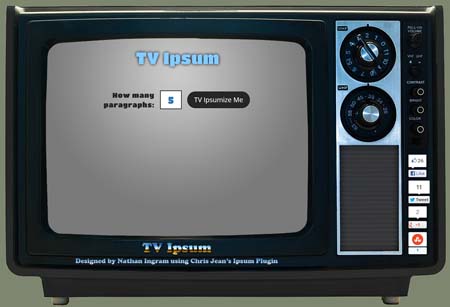 Visit TV Ipsum