Quote Ipsum is dead
This Ipsum Generator is no longer available.
Quote Ipsum
Uses quotations
Review
Today, we look at the quaint Quote Ipsum placeholder text generator which sports a minimal and clean design. The user interface is standard-issue with a few differences worth mentioning.
There are three types of placeholder text one can generate: Happy (default), Inspirational and Motivational. These correspond to categories of famous quotes that are used in the generation process. Other parameters include:
Paragraph count (1-10)
"S" and "L" radio buttons which I presume correspond to the length of the paragraphs (small and large)
Wrapper Options include expected <p>, <div> but also DIV tags with a blank id or class attribute.
Another option is the ability to generate by specifying a word count. What I like about this is that the quotes are broken up which creates a more "gibberish" form of ipsum.
Another interesting feature of this tool is that all quotes used are presented on a "Source Quotes" page. I've never seen an ipsum generator do this but I suppose with quotes it is more appropriate; especially since the authors of the quotes are not included in the placeholder text.
If you are in need of some shiny, happy placeholder text, then look no further than Quote Ipsum.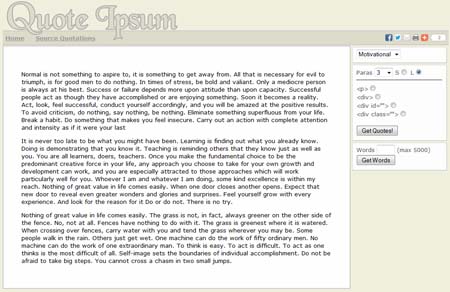 Visit Quote Ipsum