Cupcake Ipsum
Sugar-coated placeholder text
Review
Considering the holiday, I decided to put up another food-themed ipsum generator. This one is called cupcake ipsum and it's pretty sweet.
The design is well-done and features cute spot-color illustrations of dessert items like cupcakes, doughnuts, and pie. It's not my style but perfectly appropriate for the site's name and theme.
Parameters include:
Paragraph Count
Paragraph Size with three options: long, medium, and short
Start with "Cupcake Ipsum Dolor Sit Amet" checkbox (a feature borrowed from lipsum.com and appropriately tweaked)
"Give your text some Love" checkbox which appears to randomly insert the phrase "I love" into the generated text
Out of all the food & beverage generators I've reviewed thus far, this one sports the best design. The parameters aren't anything special but I suppose it's good to have a fun and family-friendly ipsum generator at your disposal. I'd like to see a pulldown menu option to be able to add my own topping to my cupcake ipsum: whipped cream, sprinkles, powdered sugar, jujubes, etc.
If you are looking to sweeten up your design review process, then you should consider Cupcake Ipsum for your next project.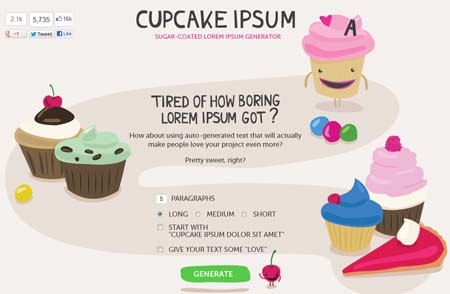 Visit Cupcake Ipsum