Beer Ipsum is dead
This Ipsum Generator is no longer available.
Beer Ipsum
Your malty deliciousness place for fresh random ipsum text.
Review
Well now that we've eaten our meat and vegetable ipsum, I think it's time we wash it down with some liquid placeholder-text. That's right! In keeping with the food and beverage theme we've got going, I found Beer Ipsum.
According to the website, it was created using a plugin written by Chris Jean or as I like to call him, The Bacon Ipsum Guy or The Veggie Ipsum Guy. This guy's plugin may very well keep me writing about Ipsum Generators for years to come. :)
Nothing exciting in the user interface; you get a paragraph count parameter and then it spits out beer and brew related words.
At this point, the right side of brain is thinking a "meal mashup generator" using a variety of these food & beverage generators. Think of it as ordering in a restaurant... "Why yes, my design would like to start off with a plate of vegetables followed by a main course of bacon. Then it would like to wash it all down with 12 pints of beer."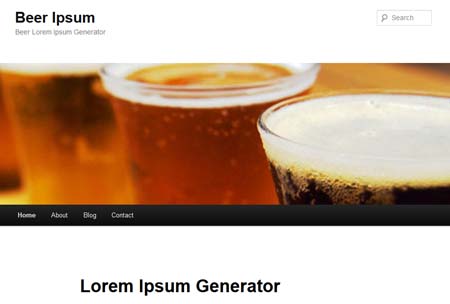 Visit Beer Ipsum